Contact Us
Contact : Hogo Lv
Tel : +86-571-88635972
Fax : +86-571-88638953
Email : admin@altrasonic.com
Phone : 0086-15158107730
Address : Room 1101, Building 1#, No. 398 Kowloon Avenue, Yinhu Street, Fuchun Silicon Valley, Fuyang District, Hangzhou City, Zhejiang Province, China.
4000W Ultrasonic Welding Machine For Various Wiring Harness , Light Weight
Product Details
4000W 20khz Ultrasonic Harness Welding machine for various wiring harness

Light weight and small size, easy to carry and move

---




Description:

Ultrasonic wiring harness welding is use of high-frequency vibration wave to the two welding wire to be welded surface. In the case of pressurization, the two wire harness surfaces are rubbed against each other to form a fusion between the molecular layers. The advantages of ultrasonic wiring harness welding are high-speed, energy saving, high fusion strength, good conductivity, no spark and close to cold working. The disadvantages of ultrasonic wiring harness welding are metallic parts can't be too thick(generally less than or equal to 5mm ), the welding bit can't be too big and need to be pressurized.



Advantages:
Equipment power is divided into 2000W, 3000W and 4000W
one-time welding molding, welding area from 0.5mm² to 50 mm² (more big welding area is in developing)
Electronic protection circuit for safety
Integrated design, advanced equipment structure, small size and light weight, beautiful appearance, easy to carry and move
PLL phase-locked frequency tracking technology is adopted to ensure the welding effect
Easy to operate, lower labor cost
good electrical conductivity after welding,low or almost zero resistance coefficient
short welding time without any flux, gas and solder, which is green and the most advanced electrical connection technology currently.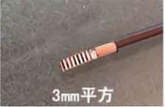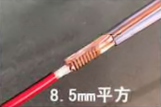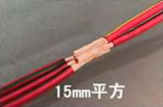 Specification:

| | | | |
| --- | --- | --- | --- |
| Model No# | HS-X2020A | HS-X2030A | HS-X2040A |
| Power | 2000W | 3000W | 4000W |
| Welding area | 0.5-16mm² | 0.5-20mm² | 1-30mm² |
| Working air pressure | 0.05-0.9MPa | 0.05-0.9MPa | 0.05-0.9MPa |
| Frequency | 20kHz | 20kHz | 20kHz |
| Voltage | 220V | 220V | 220V |
| Weight | 18KGs | 22KGs | 28KGs |
| Working head Size | 530*210*230mm | 550*220*240mm | 550*250*240mm |
| Machine Size | 540*380*150mm | 540*380*150mm | 540*380*150mm |



Application:

Altrasonic series ultrasonic harness welding machine could weld the harness area from 0.5mm²to 50mm². It is mainly apply to overlap welding of automoble wiring harness cable, wire head molding,wire inter-welding,multi-wire joining-up,butt joining or cross-welding.

Altrasonic series ultrasonic harness welding machine suitable for copper-aluminum harness, metal braid wire, metal stranded wire, harness terminal, enameled wire, electric machine lead wire and harness, aluminum wire welding.

Altrasonic series ultrasonic harness welding machine are widely used in automobile, electronics and
electrical industry, communication equipment, mechanical equipment, instrumentation and other fields.



Principle:

The principle of ultrasonic welding is generated by the ultrasonic generator tens of kilohertz ultrasonic power through the magnetic transducer to produce ultrasonic vibration of the mechanical frequency. The welding cutter is set in the proper position of the end, and the chopper must produce a mechanical vibration called alternating shear stress. Aluminum wire and chip aluminum welding surface of the oxide film is damaged, and because of friction, the interface produce a certain amount of heat to the welding of aluminum wire and the aluminum pad on the chip has a certain plastic deformation, the aluminum atomic metal contact close to form a strong bond.






what is the difference between Ultrasonic metal welding machine and ultrasonic plastic welding machine ?

Firstly, the way of working is not the same. Generally, the vibration direction of the welding head in the ultrasonic plastic welding is perpendicular to the welding position. In the ultrasonic metal welding machine, the vibration direction of the welding head is parallel to the welding position. In some special cases, plastic welding can also be used in parallel directions, such as thinner plastic parts.

Secondly, due to the application of metal welding machines to welding metals, higher requirements are placed on ultrasonic welding technology. Compared to ordinary plastic welding, the requirements for power capacity, power density, stability, and automatic control are not the same. level. Domestic ultrasonic plastic welding generators are basically self-excited circuits, typically represented by full-bridge circuits and half-bridge circuits commonly used in Taiwanese machines. The distinctive feature is a tuned inductor. If the existing mature technology for plastic welding is directly transferred to metal welding, its technical innateness will lead to unstable use of the product; its only advantage is that the price is cheap, but for the high requirements of the metal welding itself, This advantage is very pale.

The stable ultrasonic generator also requires: constant amplitude function and amplitude stepless adjustment. Constant amplitude function, which can ensure the consistency of welding, is the key to stable production; stepless adjustment of the amplitude is the basic to ensure the use of equipment, such as the ability to weld copper and weld aluminum materials on the same equipment through parameter adjustment.

1. High-quality welding heads: Metal welding, as an industrial application, inevitably requires a long-life welding head.
2. High-quality control system: It has three basic control modes: welding energy, time, and altitude. A variety of quality control software meets different requirements.
3. Metal welding machines use high-quality transducers such as 20kHz transducers that must be able to withstand more than 3kw of load for long periods of time.



Previous3000 Watt 20kHz Ultrasonic Welder , Ultrasonic Bonding Machine For Solar Panels
NextHigh Frequency Ultrasonic Metal Welder For Heat Treatment
Inquiry
Please feel free to contact us.
Related Products